Uncensored Japanese Porn Sites updated on August 3, 2023, by author Daniel.
Working as an adult webmaster can teach you some interesting things about the porn industry. One thing you learn is which sites have the highest sign-up rates and which sites continue to rebill their satisfied members. Our top 10 Japanese porn list is one of our most viewed pages when looking at visitors from Google.
Japanese porn has always been a favorite of mine ever since discovering the amazing miracle of internet porn. The problem with many of these sites, such as All Japanese Pass (review), is that most scenes are censored. This is due to Japanese porn laws that don't allow uncensored images of genitalia.
However, there's a loophole: By hosting the website and running the business in the USA, they can bypass these rules so that you can enjoy uncut, unfiltered, and uncensored Japan porn.
So, here are my 14 best uncensored Japanese paid porn sites without further ado.
#1 – JAV HD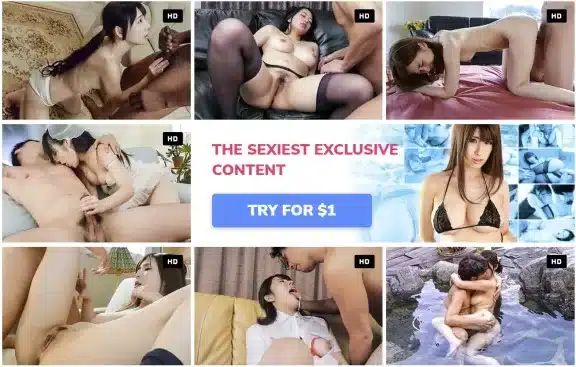 JAVHD.com may be more expensive than some sites, but it competes with a 100% uncensored Japanese porn site network that you can read all about in our full review of JAV HD.
Here, you're getting all the Japanese porn categories you'd expect from a premium site in Full-HD, with a whopping 4,227 scenes, making it the #1 uncensored Jporn site today.
We've reviewed all the JAV HD network sites, including Schoolgirls HD, Hey MILF, Shiofuky, and Ferame. The site claims to have 60,000+ members, which speaks volumes about its popularity.
As a member, I can attest to the quality and quantity of this unusually high-priced network at $49.99/month. But if you commit longer, you can lower the price to $19.99/month.
#2 – Japan HDV
JapanHDV.com is the latest site in the Japanese porn niche, competing to be among the best in delivering top-quality uncensored porn from Japan. And they have also added something rare to find to their videos; what can that be? Here, you get your Japanese porn with English subtitles. The time is gone when you are curious about what these girls say while they are fucked.
Japan HDV delivers 1,400+ videos, but there is more to it. It also has 7+ bonus sites like AV Idolz, an uncensored Japanese teen site with 1950+ videos. Tenshigao is their new amateur Japan site with 50+ exclusive scenes and more.
With fewer videos than JAVHD, they also have a lower monthly membership price of 1 month for $29.95 (recurring) or 1 month for $39.95 (non-recurring). Or save by signing up for the one-year membership for only $89.95 ($7.50/month).
For more details, please read our full Japan HDV review.
#3 – Japan Hardcore Movies
JapanHardcoreMovies.com is one of the longest-running JAV sites. It was one of the first to offer premium porn without censorship or pixelation. There are amateurs, matures, big tits, small tits, leg fetishes, blowjobs, anal, bondage, and more. All in all, you'll find 990+ exclusive uncensored scenes.
All the video content can be streamed online or downloaded in full-length versions. Since my original Japan Hardcore Movies review, the site has been optimized for mobile users, meaning you can watch on any device without problems. At $29.99/month, it's also reasonably priced.
#4 – Caribbeancom
But what happens if you want all those excellent Full-HD 1080P Japanese porn videos from J Porn Access (review) but you want to be able to download the videos? It's not a problem, but it will cost you extra. Caribbeancom.com is the streaming AND downloading version of J Porn Access but with a significantly higher price tag.
Other features include a Super VIP option, which gives you access to additional videos and a gift of 12 chat points for their live Japanese webcam site, DXLive.com (reviewed DX Live review.)
Learn more by reading our full Caribbeancom review.
#5 – Sperm Mania
Japan is known for its bukkake porn niche, where dozens of horny Japanese men blow their loads on pretty Japanese faces. SpermMania.com isn't a true bukkake site but a cum-play and sperm-focused collection. It's exclusive and of the highest quality, even trumping the above sites.
Recently, they've begun adding Western pornstars to the mix. It's an interesting choice, but I'm not complaining! There are some true bukkake scenes as well now, but the pitch-black background, in contrast to the beautifully shot full-HD videos to download or stream, makes this a must-see for any fan of Japanese bukkake or cumplay.
Get the inside scoop before joining by reading my Sperm Mania review.
#6 – Fellatio Japan
If you like the creative and artistic vision of Sperm Mania, and if you also enjoy uncut Japanese blowjob porno, then you're sure to get your kicks out of the hot Japanese AV idols of FellatioJapan.com. It wouldn't be an exaggeration to say this is the world's premier Japanese fellatio site.
Maybe their hottest scene yet is their latest update featuring Mizuki and Nanako Nanahara giving a POV double blowjob to a white cock. You never see the male performers, which is how I like it, giving you a proper first-person perspective of the hottest cock-sucking Asians.
Here's the full Fellatio Japan review with content breakdown, user experience, prices, and more.
#7 – Heyzo
Heyzo.com is lesser-known in the Western markets, but that shouldn't deter you from joining. This exclusive collection of censorship-free porn movies features top AV idols in teen, MILF, and amateur categories. There are already 2416+ exclusive movies with new updates every day!
Membership is on the pricey side, though. And there's a daily download limit. Also, their 'Deluxe' and 'Super Deluxe' videos are only available for 3 or 6-month commitments, but unfortunately, it doesn't give you a much better value.
Learn more by reading the in-depth Heyzo.com site review.
#8 – 1 Pondo
1Pondo.tv may be the highest quality Japanese site of today. There's an immense selection of 3,000 videos, primarily uncensored, but I found some censored ones, too, which isn't a big deal in my books since the babes are so incredibly hot. It also has a slick, modern theme with options to upgrade to a faster downloading service.
Here's the problem: it costs $65/month, more than double the average Jporn paysite. I'd say that this premium collection is for the serious collector.
Here's our full review, where you can learn more about content, membership plans, and my expert opinion.
#9 – JVR Porn
JVRPorn.com is one of our most visited Japanese porn site reviews. Featuring true immersive virtual reality porn featuring the world's hottest Japanese pornstars, you can expect 90 FPS, 5K videos with no censorship whatsoever, and weekly updates.
As I write this review, there are 120 videos. And while that may not seem like much compared to our other Top 10 VR Porn Sites, it's a satisfactory amount. Worth the price if you already have a quality VR headset.
Find out more with our JVR Porn review.
#10 – Legs Japan
Do you have a fetish for Japanese feet and legs? I didn't think I did, that is until I checked out the top-notch quality LegsJapan.com. There's toe-sucking, foot jobs, leggings, and fishnets, made even better by the fantastic roster of Japanese models.
The members look similar to the free tour, so there's no surprise when joining. You can preview all the videos to help you decide, with original, exclusive content in 1080P up at download speeds up to 6000kbps. There is no pixelation of genitals on this uncensored Japanese porn site.
The only downside: it's expensive at $49.95/month. See if it's worth it by reading our full Legs Japan review.
#11 – Handjob Japan
Or maybe you prefer Japanese handjob porn? In that case, there's also an exclusive Full-HD site just for you. It's known as HandjobJapan.com. What makes this site shine is the unique models filmed in POV, stroking cock while talking dirty to you in Japanese.
The update schedule is inconsistent, but members can expect over 250 exclusive scenes. Nearly half of them feature two Japanese models sharing the same cock. Also, there are only Western male performers here with big white cocks.
For more details, read the full Hangjob Japan review.
#12 – Ura Lesbian
UraLesbian.com is a premium JAV lesbian membership site showcasing only the most delicate angels in pussy-licking and sensual all-girl sex. There's variety, too, with some bondage, some threesomes, and some Western women.
There's a similarity to each scene, filmed with the same pitch white background, with scenes often starting softcore with French kissing and nipple licking.
You'll find 160+ videos to stream and download in 1080P. There was a period where they stopped updating, but they've since resumed adding fresh new videos—no censorship whatsoever.
With an excellent user experience, high-quality videos and photo sets in Zip files, and probably the hottest Asian lesbians in porn, this is a must-see sight for any fan of all-girl J-porn.
Please find out more by visiting our Ura Lesbian review.
#13 – Tokyo Face Fuck
TokyoFaceFuck.com features Japanese deep throat and rough face fucking. Imagine a hot Japanese pornstar serving your cock on her knees. Imagine grabbing her head and forcing your cock down her throat, leaving her gagging and coughing. That's the premise of Tokyo Face Fuck — rough blowjob sex featuring the hottest JAV pornstars.
What I like best is the contrast of delicate, beautiful Asians turned into gagging messes with dripping mascara off their pretty faces. This is true art, with glorious Full-HD 1080P downloads that will improve any Japanese porn collection.
Find out more about the site's content and features by reading my Tokyo Face Fuck review.
#14 – JAV Cube
Even though JAVCube.com comes last on this list, don't assume that it's of lower quality. There are 362+ uncensored JAV porn scenes, but a whopping 12,690+ full-length DVDs (often lasting over 2 hours) in their original censored format. In other words, you won't be running out of porn soon.
JAV Cube is a collection of two sites: Japan Hardcore Movies and JAV Model. So you're getting a 2-for-1 deal priced at only $33.95 for a monthly pass.
It's a mix of all the categories you'd expect in a Japanese porn mega-site network: anal, bondage, cosplay, debut, fetish, foot sex, interracial, lesbian, nurse, pussy ejaculation, schoolgirl, and more.
Here's the full JAV Cube review if you're interested in joining.
Reviews of More Japanese Porn Sites
The sample of the best uncensored Japanese porn sites we reviewed is the above. For a more extensive list, including all the censored sites, check out our Top 80 Japanese Porn Sites and Japanese Webcam Sites for live sex shows.
You can also find the following Jporn porn lists and articles: