Premium VR Porn article published on November 20, 2020 by Dark Angel Reviews
Which Are The Best VR Porn Sites?
Going into 2021 we wanted to present a fresh article where we have picked out the best sites at the moment from our Top 10 List of VR Porn Reviews. Virtual reality porn hasn't yet really taken off, but that is not because of a lack of content or quality. Today you have the latest VR porn videos in 5K and in a great mix of porn categories. Why the market hasn't taken off so fast yet is because there are still not that many that have access to VR from home. And you need to be home alone or at least lock your bedroom door as this gets so real as you totally emerge into the video and forget all of your surroundings.
The first two sites on the list BadoInk VR and Holo Girls VR, they are the top sites today when it comes to mainstream VR porn. I  also have thrown in a few more sites that are more niche-specific with fetish VR, Shemale VR porn, and Japanese virtual reality sex.
You can click on the links to visit each site or if you want more details about the sites then you can use the full review links.
BadoInk VR – Best Virtual Reality Site
With awards for Best VR Site of the Year (XBIZ), VR Site of the Year (AW Awards), and the most popular channel at PornHub.com you know that you will get the best quality here. You also get famous pornstars like Adrian Chechik (11 videos), and you can find a free totally free VR porn video with her on the BadoInk VR home page:
You find videos in porn categories like Anal, Lesbian, Teen, Milf, 360, Pornstars, Squirting, and much more. In total, you get 455+ VR porn videos and with 2 new releases each week.
So how much do you have to pay for this top-rated VR porn site?
$1 – Limited 1-day trial
$24.95 – 1-month
$89.95 – Yearly
$299.95 – Lifetime
Visit BadoInk.com now or for more details about the site go to our full BadoInk Review.
Holo Girls VR – Best VR Scene
Compared to BadoInk VR this is a smaller virtual reality site and the video quality is lower. But Holo Girls VR scene Angel n Danger has won the prize for the Best VR Scene and they also hold an award for Best Virtual Reality Innovation Site. So with that said this is a site worth checking out.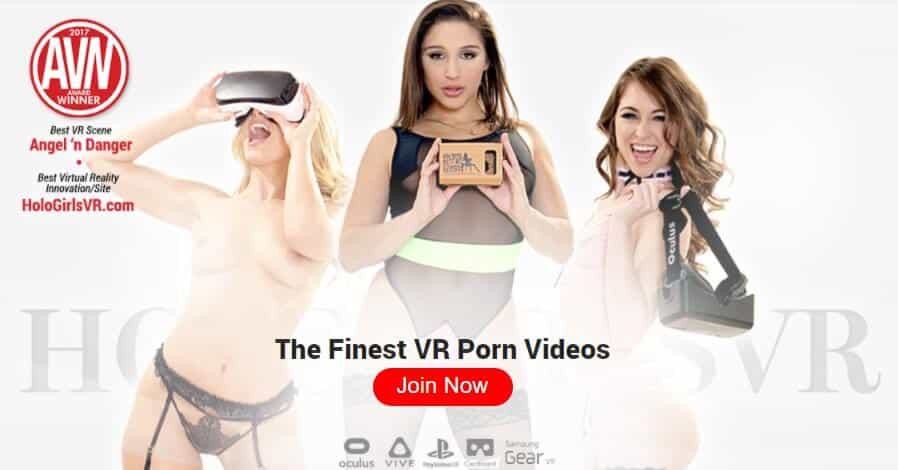 One thing I like really like about Holo Girls VR is that you can sort the videos by sex positions, so if you want a virtual porn experience when you laying down, half sitting, or standing you can quickly filter the videos. You get fewer videos here compared to BadoInk, at the time of this article I found 90+ videos and no regular updates.
You get less here compared to BadoInk VR but the price is also lower:
$17.99 – 1 month
$35.97 – 3 month
$95.88 – 1 year
Visit HoloGirlsVR.com now or for more details about the site read our full Holo Girls VR review.
Kink VR – Virtual Reality Fetish Porn
Are you more into fetish porn categories like bondage, BDSM, punishment, caning, foot job, fisting, latex, etc then Kink VR would be to site for you? With 90+ videos it's not the largest VR porn site, but that is often the case with niche porn sites. But if looking for fetish VR porn this is by far the largest collection I have come across and when a famous brand like Kink (review) is behind the site you know you are in for a treat.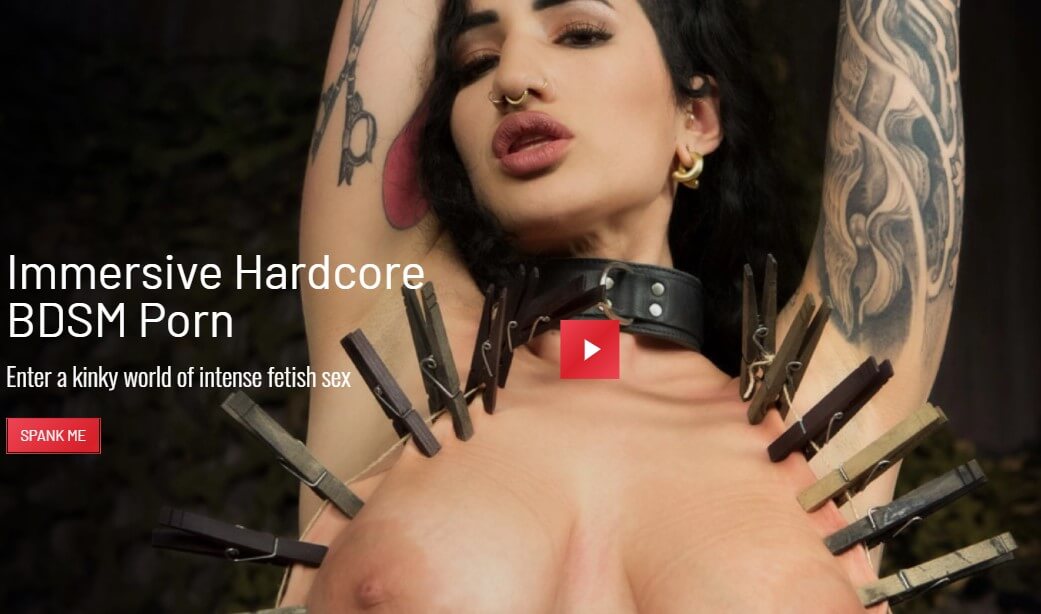 You can sort all the content by fetish porn categories or you can click on the model link at the top menu to sort them by your favorite pornstars. At Kink VR you find famous stars like Jasmine Jae, Ashley Lane, and Baby Sid. One of my longtime favorite fetish pornstar is Jasmine Jae and you find her here in the 40-min long video 'Used Whore Wholes'.
Below you have the different Kink VR membership options that they offer:
$1 – 1 day trial
$24.95 – monthly
$89.95 – yearly
$299.95 – lifetime
Head over now to KinkVR.com and immerse into the world of fetish VR porn, or read our full Kink VR review for more details about this premium fetish VR site.
JVR Porn – Japanese VR Porn
With over 70+ reviews of premium Japanese porn sites, we built up a large following of JAV fans. So adding a Japanese VR porn site to this article was a must, the only problem was that there are not many out there. JVR Porn if you are looking for JAV VR this the only site today on the market that is worth recommending. There are a few more JAV sites that we have reviewed but the selection of VR videos is just too small.
In a niche category like this, the 125+ JAV VR videos you get must be considered to be a pretty large selection. You can't filter the videos here so you will need to scroll through the pages to find videos to watch.
The videos cover Japanese porn niches like maids, schoolgirls, mature, double blowjobs, soapy massage, masturbation, teacher, drunk girls, and more.
Here are your JVR Porn membership options:
3 video downloads for $9.99 (limited time promotion)
1 Month $29.99
6 Month $69.99 ($11.66/month)
1 Year $119.88 ($9.99 per month)
Go straight to JVRPorn.com now and get as close to a Japanese porn experience that you can without traveling to Japan. Or learn more about the site in our full JVR Porn review.
Best VR Porn Sites Summary
Virtual Real Trans – Transgender VR
What's a Premium VR Porn Review List without a Transgender VR porn site? You can actually find 3 Transgender VR sites among our Top 10 VR Porn Reviews. I have picked out Virtual Real Trans for this article and I consider this to be the best site in the VR trans category.  Here you can experience 140+ exclusive top-quality virtual reality videos with hot and horny TS stars, and with the latest scenes filmed in stunning 5K.
Above you see a screenshot from a free transgender VR video that you can watch before becomming a member at Virtual Real Trans.
What the price for this premium transgender VR content?
1 month – $17.99
3 months – $11.99 per month
12 month – $7.55 per month
Lifetime – $299.00
Head over to VirtualRealTrans.com and start watching the free video preview. Or you can learn more about the site in our full Virtual Real Trans review.
Premium VR Porn Sites Summary
I hope this article has given you insight into the top site on the market today. I also recommend checking out our Top 10 VR Porn Reviews, or for even more reviews you can also visit our sister site VR Porn Reviews.
Please take a moment and share your own thoughts and experiences with these sites in our comment section below.