Badoink VR review updated on March 4, 2022, by Dark Angel Reviews.
Introduction
Badoink VR is one of the biggest brand names in porn with a long history of creating high-end porn videos with top starlets.
Today's review is of their newest VR porn paysite known as Badoink VR.
This immersive VR mega-site is one of the largest VR porn sites on the market right now.
It's got the most prestigious babes like Adriana Chechik, Jill Kassidy, and Brett Rossi, and it also includes full Access to their BadoInk network of 10,000+ videos.
If you're new to virtual reality porn and live in the USA, you'll also get a free Google Cardboard for viewing the VR on your mobile phone.
I also recommend reading our blog post — The Best Premium VR Porn Sites
Impression
Whenever I review a new porn site, I first like to browse the various pages to test the user experience.
When the site was first launched, you had to download the videos to your desktop before you could view them on your mobile. This was an inconvenience, but I'm glad to report that they've since updated their compatibility so that you can now download the videos directly to your smartphone.
It's easy to find your way around the content with different options to sort and browse the exclusive videos. I've got my Samsung Gear VR ready, so let's take a peek inside.
BadoInk VR Content
VR porn is still somewhat new, with most sites offering only a dozen or two videos. However, Badoink VR provides a much better selection of content.
You get 505+ exclusive Badoink videos making it one of the largest sites in the VR niche.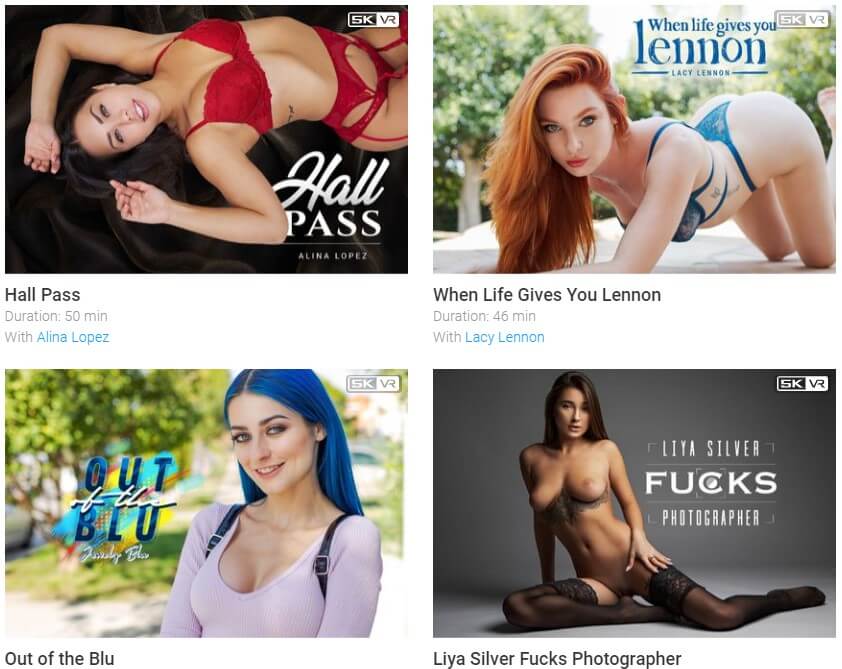 You can browse all of the videos on the free tour by visiting the 'VIDEOS' page linked from the top. You'll surely appreciate the 4K VR porn videos with niche-specific content such as anal, big tits, blowjobs, and threesomes.
The latest uploads are filmed in stunning 7K quality, this was the first time I tried to watch VR porn in 7K, and all I can say is it looks incredible!
The models are stunning, and you'll find your favorite pornstars, such as Vanessa Sky, Lexi Belle, and Alex Grey. It's worth noting that most pornstars appear in only one scene. This makes each video a unique experience since there are over 150+ different pornstars. Most of them are filmed at 180 degrees, but some are also 360 degrees.
Format
The VR porn videos are compatible with most of the VR headsets available on the market. The Google Cardboard is the entry-level, which will still give you the immersive experience, but in a less impressive quality than the higher-end equipment such as the Oculus Rift or the Playstation VR.
As I mentioned in the introduction, you can get a free Google Cardboard by joining the site. But this is only available for those living in the US.
Other formats include the HTC Vive, Samsung Gear VR, and Google Daydream, providing a superior viewing quality to the Google Cardboard.
Network sites
If you're looking for similar VR content, I recommend their other company sites, VR Cosplay X and 18 VR. These sites feature the same high-quality pornstars that made Badoink one of the global leaders in VR entertainment.
Badoink VR price
There are different membership plans available, including a limited trial membership.
Trial – $1.00 (mobile streaming + one download)
1 month – $29.95
1 year – $7.50/month
Lifetime – $299.95
Pay by Credit Card or PayPal.
Worth noticing is that membership at Badoink VR also gives you Access to the BadoInk VIP Network with over 10,000+ videos.
If you would like to cancel your membership, it is quickly done on their support page, where you can get help if you run into any issues with the site.
Conclusion
BadoinkVR is one of my preferred virtual reality porn sites, and it will get better as they keep adding 2 new VR releases every week.
You get unlimited streaming and downloading with the world's most famous porn starlets, free Google Cardboard, and Access to the Badoink VIP Network with over 10,000 porn videos.
And the price is right too. Need I say more?
Top 3 VR Porn Site Reviews