Porn with interactive sex toys article updated on February 26, 2023, by Dark Angel Reviews.
Watch Porn Videos With Interactive Sex Toys
There are a couple of ways to take the experience of watching porn to the next level. In our blog post on the best VR porn sites, you will find the top premium sites if you want to enter the virtual reality porn world.
But for this article, we will look at the latest trend, and that is porn with interactive sex toys. Now there are porn videos out there that sync with the film.
The Top Porn Video Platform With Interactive Films
The leading premium subscription porn site Adult Time (review) has stepped up the game by not only being the best mega porn site but now also having hundreds of films you can sync to your sex toy.
They started with around 250+ interactive porn videos and now add 30-40 more videos monthly. This is a small number compared to the 55,000+ porn videos you access as an Adult Time member. But the number of interactive porn videos is growing fast!
In the image below, taken from inside the Adult Times members area, you can find the Interactive Toys videos from the sidebar menu.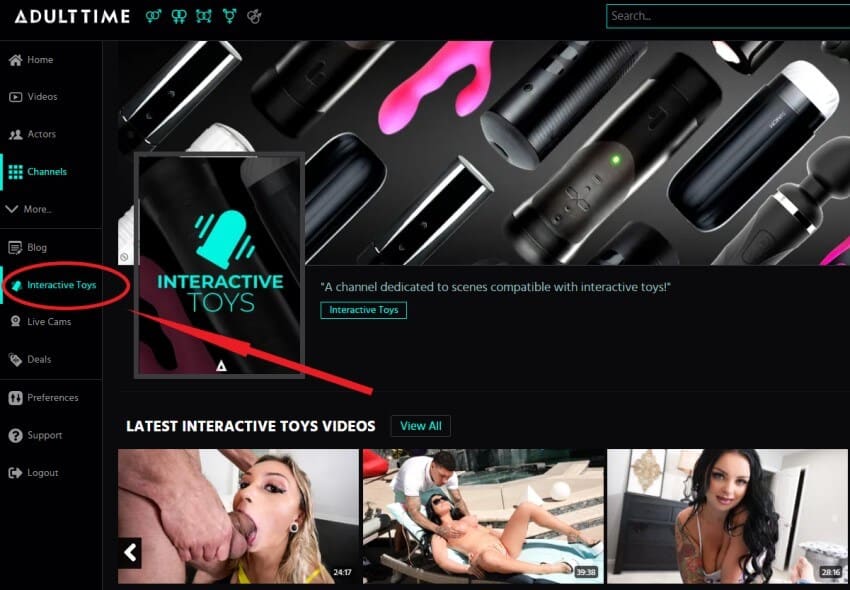 The link leads you to the Interactive Sex Toy channel, where you can search and scroll to find all the porn with interactive sex toy options. When writing this article, there were 422+ videos on here.
How To Watch a Video With an Interactive Sex Toy
First, you need to find a video you would like to watch, and the easiest way is by scrolling through the content after clicking on the Interactive Toys link on the sidebar menu.
But you can also spot videos compatible with sex toys by looking for a mark in the top left corner of a video.
The image below shows an example of that from a Kylie Rocket video.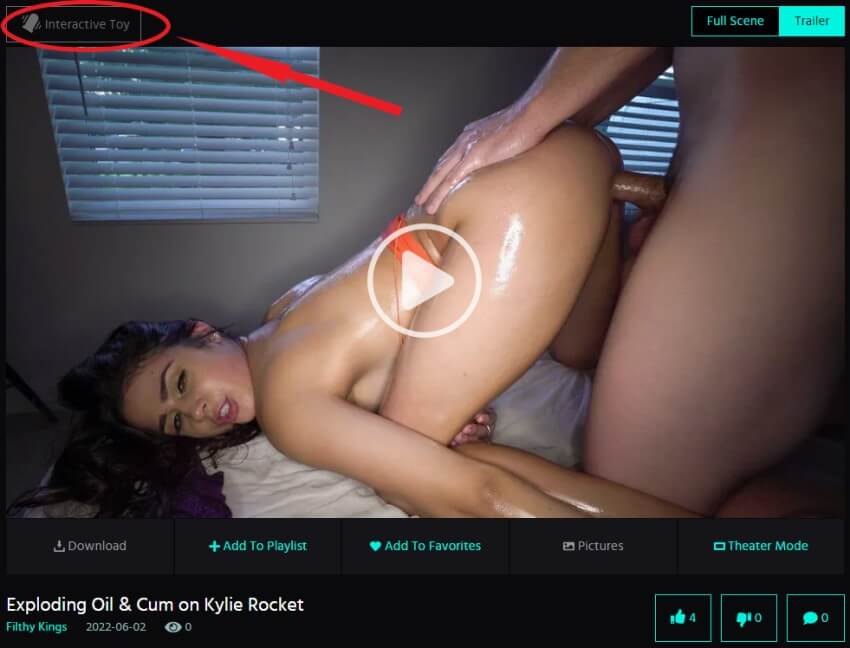 Which Sex Toys Are Compatible
Before you can enjoy any porn with interactive sex toys, you need the correct sex toy. You have the option to use the following WIFI or Bluetooth toys, The Handy, Kiiroo, Lovense, Svakom, Keon, Onyx, Hot Octopuss Pulse, Titan, and Svakom Alex Neo. You will also need to download the FeelConnect app.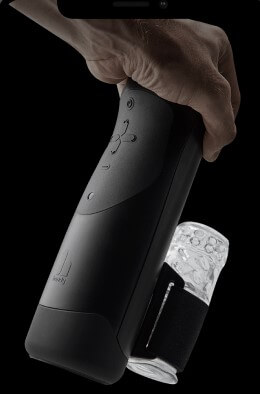 My favorite toy to use for watching interactive porn is The Handy, it's a popular sex toy for men that is easy to find and order online. It will set you back around $170.00, and I can say it was worth the investment as it makes it so much more fun to watch porn now.
The Adult Time Video Platform
On top of being able to watch porn with interactive sex toys, you'll also get access to one of the most popular premium porn video platforms.
By using any of our links you also get an Adult Time membership discount, but first here are some quick facts about the platform.
55,000+ videos
250+ porn channels
Premium porn series
Straight, lesbian, trans, pansexual, bi, and gay
8 updates per day
Price & Membership
All prices below are with our Adult Time discount prices.
3 days $2.95 – $1.00 – SAVE 75%
30 days $19.95 – $14.95/month – SAVE 25%
365 days $9.95  – $7.95/month – SAVE 20%
1095 days $9.95  – $6.95/month – SAVE 30%
Porn with Interactive Sex Toys Summary
So far, there is one place where you can find a wide selection of porn videos that offer the option to watch with an interactive sex toy. And that is at the mega porn video platform Adult Time. It is also one of the most popular video platforms for adult content, and many see it as the porn option to Netflix.
With a competitive price and one of the largest collections of porn, this is a video platform you don't want to miss out on!
Recommended Reading For You