Panda Fuck review was updated on February 14, 2023, by Dark Angel Reviews.
Introduction
Panda Fuck is one of those crazy and  bizarre porn sites that will have you thinking, "What the fuck am I watching?" Imagine some guy in a giant panda outfit as hot teen girls are sucking fake panda dicks.
Before you write off this site as a freak show, it's worth mentioning that the girls on the site are extremely attractive. All the chicks are young Russian teens, many of them being 18 or 19 years old.
To say the site is unique would be an understatement. It adds an element of humor that you don't find on other sites.
Included with the Panda Fuck membership is full access to the complete WTF Pass network of 11+ reality niche sites.
We've even negotiated a special discount for our Dark Angel Reviews readers.
Also, read our blog post for more strange porn sites: The most bizarre porn sites.
Impression
Starting with the main menu at the top of the Panda Fuck home page, you'll find links to all the videos, models, and WTF Pass sites. The network sites are also displayed in a scrolling menu at the top.
The latest additions to the network are The Art Porn and Meet Suck And Fuck. Each site focuses on a niche-specific porn category you're not used to seeing on other mega-sites.
HD Massage Porn features young teens getting rubbed down by professional sex masseurs, whereas College Fuck Parties gives 3-hour-long sex orgies with the youngest and hottest coeds.
The unique Panda porn videos
This site is a lot of fun.  The top-rated scene features the same panda dude fucking a young brunette in the woods with his giant black panda dick.
Many scenes are shot outdoors; others are filmed inside a bedroom.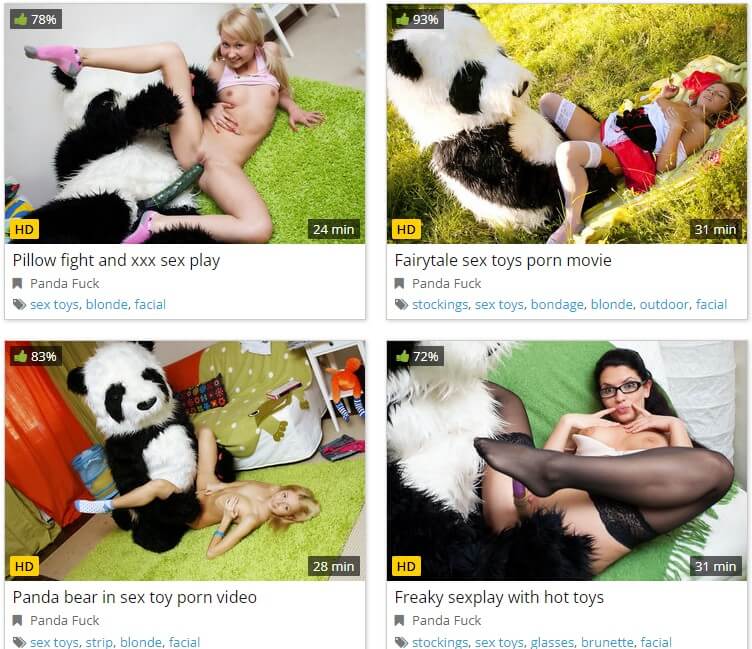 All the girls fit perfectly in the "Teen" or "18-23" category. The girls exaggerate their innocence, as with most teen sites, but their petite bodies and perky little tits are sure to excite any fan of nubile hardcore.
When the panda cums, he blasts his fake cum-squirting dildo covering the girl's face and tits with creamy white goo. The girls seem to enjoy it, and they're not taking things too seriously. After all, they're getting fucked by a panda, for Christ's sake!
The Included WTF Pass Sites
WTF Pass (review) is quickly gaining attention in the expanding world of niche porn. Every site comes to you from Europe, mostly Russia.  So all the girls and movies will be new to you. The network of 11+ sites includes the following:
Hard Fuck Girls – Young teens in rough sex featuring hard anal and facial cumshots. Imagine a sweet 18-year-old surrounded by horny men as they gangbang the fuck out of her – that's the premise of this site.
Dolls Porn – Another hardcore Euro site featuring slutty teens, double penetration, and group sex.
The Art Porn – Probably the best site of the bunch, this one focuses on real-life teen couples in artistic movies that thrill and excite you in different ways.
You can view the entire list of sites if you visit the Panda Fuck home page and click on 'WTF SITES' from the top menu.
Membership Price
Here are your membership prices:
$1 for 1 day (trial membership)
$34.95 Special! $19.95 for 30 days of access
$59.95 for 90-days
Conclusion
Panda Fuck is sometimes silly but always a blast. The 32+ original movies will entertain you, at least for a while.
And the bonus sites will keep you around for longer than the first month.
If you sign up, use the link below to get the special $19.95/month discounted price (you can thank me later).
Recommended Readig For You