The Weirdest Porn Sites article was updated on July 21, 2022, by Dark Angel Reviews.
I thought I'd do something a little different for this blog post. Instead of talking about my favorite sites, I'm going to talk about the weirdest, craziest, and most bizarre porn sites I've encountered in my 7 years as a porn webmaster.
There are all kinds of porn niches nowadays, but the sites below are the ones that stand out the most of the 750+ porn sites reviewed on Dark Angel Reviews.
So without further ado, here are the most unusual craziest, weird porn paysites.
Wierd Japan
Wierd Japan (review) – Japan is known for its kinky, bizarre porn fetishes, and it's probably where you can find the craziest porn. Many of these fetishes, such as scat (shit porn) and bestiality (animal porn), are illegal outside of Japan, and I have no intention of ever reviewing these sites.
WierdJapan.com is basically a collection of porn scenes that don't fit into any other category. If you visit the home page, you'll get an idea of the bizarre type of videos found on this All Japanese Pass network site.
There's no consistency in quality or genre other than each video features some aspect that makes it different from your typical porn site. There are public sex scenes, wet and messy videos with hot girls covered in gooey substances, extreme femdom videos with guys taking huge strap-ons up the ass, and humiliation porn that is degraded for your viewing pleasure.
There are 222+ scenes, and it doesn't look like it's updating anymore. However, your membership includes 22 bonus sites, including J Cosplay, J Schoolgirls, and Puuko (uncensored anime porn).
Overall, Wierd Japan is the most bizarre Asian porn site, and you'll be hard-pressed to find anything quite like it.
Panda Fuck
Panda Fuck (review) – Panda Fuck is some of the weirdest porn I have seen features some dude in a giant panda costume who fucks European teens with his big fake dildo penis. Sometimes he penetrates the babes in a missionary position, and other times the girls will get on their knees to suck off his plastic dick.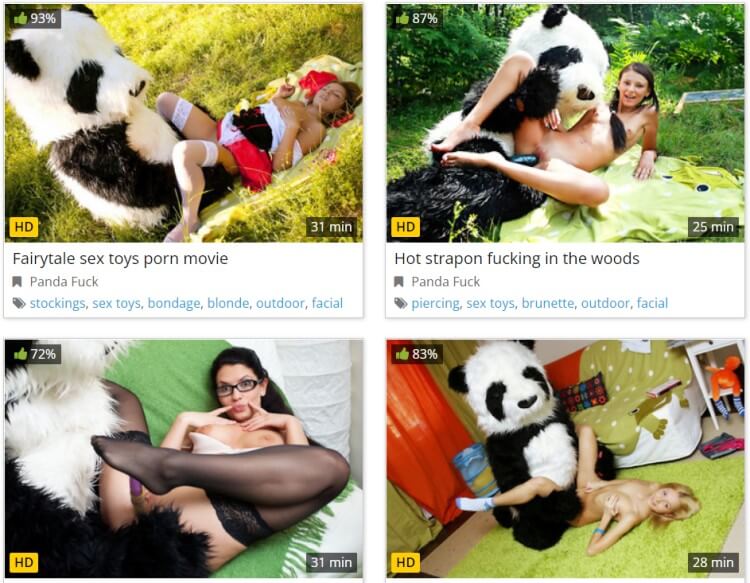 I'd be curious to know how many paying members there are on this site since it's hard for me to fathom anybody getting aroused by panda costume sex scenes. That said, the pornstars on this site are actually quite attractive and include some great bonus sites as part of the WTF Pass network.
We've negotiated a special discount price, so you'll save 43% if you visit PandaFuck.com. You'll find additional value in bonus content at The Art Porn, Public Sex Adventures, and College Fuck Parties which feature many of the same 18 and 19-year-old pornstars, making it somewhat of a teen porn mega site.
All WAM
All WAM – WAM stands for 'Wet And Messy'. It's where pornstars get covered with mud, food, or some other substance while performing a hardcore sex act.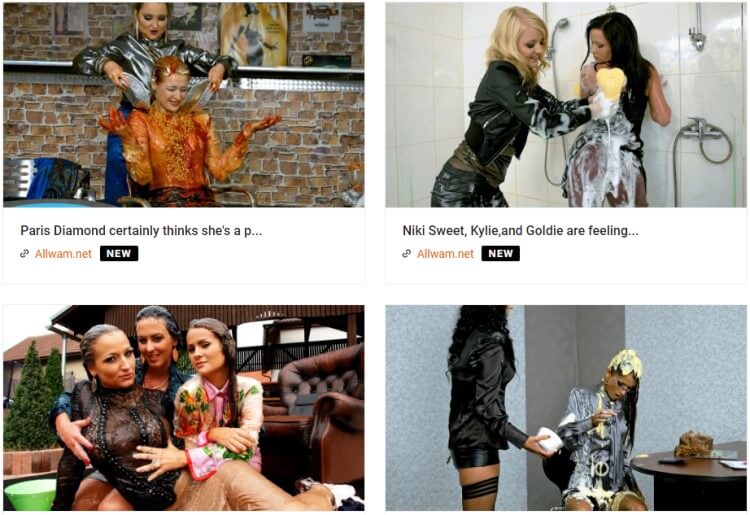 AllWAM.net is the only site I've come across to focus entirely on the wam niche. It's home to slutty European pornstars and includes the golden shower bonus site Fully Clothed Pissing.
There are repeating themes throughout the network, with bukkake and pissing being a common genre. Most of the All WAM scenes are group sex scenes, oftentimes with lesbian gangbang scenarios.
It mixes nude and fully-clothed scenes with hot pornstars in silk, stockings, or secretary outfits. Titles include Where The Mud is Muddylicious, Fully Clothed Jell-O Nastiness, Male Strippers Gets Painted By Rowdy Women, and Doused in Wet Cement.
Milk Enema
Milk Enema (review) – Milk Enema comes included as a free bonus site in the Evil Angel (review) network. This site is all about women shooting milk out of their buttholes into the mouths of other pornstars.
There's a total of 395+ scenes and the site has been running strong for nearly a decade. The overall quality varies but for most the 720p quality is satisfactory.
Fans of lesbian gaping will also appreciate Anal Acrobats and Gaping Angels that come included as free bonus sites so there's a wide variety of anal niche content.
Content comes from various DVD series including Milk Nymphos, Anal Buffet, and Pretty Sloppy. If you're interested in joining the site we have a special discount and you get the whole Evil Angel network included.
Visit Milk Enema at Evil Angel now.
Grannies Fucked
Grannies Fucked – MILF porn is one of the more popular porn categories these days featuring pornstars in their 30s or 40s. But what happens when the pornstars reach the age of 50 or 60? GranniesFucked.com is what happens!
Even though grandma is getting old and senile, she still needs a good pounding now and then. The younger studs seem to have no problem penetrating these wrinkly old ladies within the non-exclusive selection of 72+ videos.
As part of the All Porn Sites Pass, you get a ton of bonus content, including the similarly-themed sites Old N Fat and BBW Hunter.
They even have their own live cam site called Granny Sex Cam. So if you like your pornstars old, overweight, and ugly, then you can go ahead and join this site.
Honorable Mentions
Although not making the top 5 weirdest porn list above, these sites deserve to be mentioned. Like the above, you can click on any of the links to read the full detailed review.
Slime Wave – This lesbian cumshot site features fully clothed pornstars with giant fake dildos that shoot cum by the bucket. It's almost like an extreme bukkake site where girls get covered with sperm, but the cumshots are exaggerated tenfold. If you like huge facial cumshots, and you don't mind the cum is fake, then you might find yourself surprisingly aroused by these unique bukake WAM scenes.
EFukt.com – This free tube site is a collection of user-submitted videos focusing on humor for adults. The content is well organized, and it's relatively ad-free. Not all porn sites are meant to be arousing, and you probably won't be getting off while visiting this site. But if you're bored and looking for ways to kill time, then you might get some entertainment out of this site. Video categories include Trolling Pornstars, Awkward Moments, Ridiculous Orgasms, and Cum Haters.
Recommended Reading For You