Fantasy Massage review updated on September 15, 2021, by Dark Angel
Introduction
Fantasy Massage is found on our Top 10 Massage Porn List and it is a compilation of the internet's best erotic massage porn sites.  It's a big network with well over 1282+ exclusive scenes involving hot babes giving sensual massages to men or women.
All the content is taken from various network sites, namely Nuru Massage, Soapy Massage, All Girl Massage, Massage Parlor, and Milking Table.  Each of these 5 sites offers original HD content, making Fantasy Massage the largest all-original sexy massage site.
Impression
Fantasy Massage has a slightly different look than its individual sites.  The design is both simple and easy to get around.  Basically, the home page shows you the latest releases in large screen captures.  Underneath each screenshot is linked to the actors, scene length, and rating by members.
Unlike other "mega-sites" that has a drop-down menu to browse content within each network site, Fantasy Massage is more of a general site covering all the main niches (Nuru, soap, lesbian).
The top menu allows you to browse content by LATEST UPDATES, MOST VIEWED, UPCOMING, and MOST RATED.  On the top right of the screen is an alternative viewing option that allows more episodes to be displayed on each page.
You can also browse scenes by model name or category (ass fingering, ass licking, ball-licking, pussy-cock rubbing, pussy-pussy rubbing, tits massage, etc.)
Fantasy Massage Scenes
If you click on "See ALL Movies" from the home page, you'll find every scene included inside the member's area.  If you click on one of the pictures, you'll be taken to the free preview page. Previews are usually 1 or 2 minutes each, and the quality is lower than what you'd find inside as a member.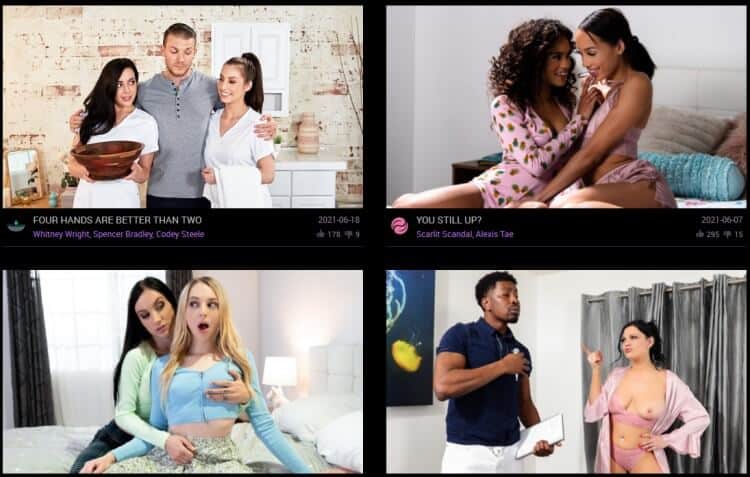 Underneath the embedded flash player are options to DOWNLOAD, WATCH NOW, and MOBILE.  Scenes can be downloaded in either WMV or MP4 formats.  There are multiple quality options including HD, but there are lower quality options as well for slow internet users.  If you choose to watch online, you can view the episodes in LOW, SMALL, MEDIUM, and HIGH-quality versions.
The MOBILE downloads offer similar quality for those of you who need your massage fix on the go.  As far as the actual scene content, there are basically 3 main massages niches:
NURU MASSAGE – Scenes taken from NuruMassage offer the Japanese-style massage with a transparent slippery gel.  These scenes are usually one girl giving one guy a massage on a grey air mattress.
SOAPY MASSAGE – The SoapyMassage scenes are set in bathtubs, showers, or on the same air mattress as on Nuru.
ALL GIRL MASSAGE – The ONLY all-girl massage site on the net.  Here's the place to find your favorite porn stars in erotic, sensual massage.
Occasionally, the scene will stray off one of these main themes.  There are a few scenes with two chicks giving one lucky guy a happy ending, but these are the exceptions rather than the norm.
Fantasy Massage Membership
Viewing any of the free previews will display the price on the right. Below are the Fantasy Massage membership options:
365 Days Membership for $95.40 (only $7.95/month!)
90 Days Membership for $68.95 ($22.98/month)
30 Days Membership for $29.95 Our Price: $14.95 (save 50%)
3 Day Trial Membership for $0.98 (limited access)
One interesting thing to note about the membership choices is the huge pricing gap between the 90-day and 1-year memberships.  It's quite rare for me to recommend a full-year membership on any paysite, but with Nuru Network's $7.95/month yearly memberships and updated HD scenes every other day, it's definitely something to consider.
Conclusion
Nuru Network could be summed up as the internet's best massage porn network. Really, it's that simple. The erotic massage scenes are well-produced and the site is also updated regularly. And the HD fantasy massage girls have never looked better.  The price is right as well.
Looking for a sexy erotic massage therapist without having to pay a visit to a massage parlor?  Then perhaps FantasyMassage.com is just what you need!
Recommended reviews for you