Evil Angel Membership article published August 8, 2021, by Dark Angel Reviews.
Learn More About the Evil Angel Membership
Are you considering becoming a member or maybe you already have an Evil Angel membership and want to learn more about it? In this article, I will go through common questions about the membership as well as the different options including pricing.
Evil Angel has been around since the days when you had to go to a video store to get your porn. Those days are over and now we have access to this giant network of porn collected for over 3 decades. If you want to learn more about the porn content then please read our full Evil Angel Review.
What you get with your Evil Angel membership:
19,000+ xxx movies.
2,800+ Evil Angel movies.
8,600+ images galleries.
4,900+ Evil Angel pornstars.
Adult Live Cam – EvilAngelLive.com.
Exclusive Directors & Porn Series.
Straight, Lesbian, Bi-Sex, Pansexual & Trans Porn.
No DRM protection, all content can be downloaded and saved.
Compatible on all platforms MAC, PC, Android, iPhone.
Membership Pricing & Discount
Using any of our links will be shown a discount price that can SAVE you up to 50% on the membership price.
In the screenshot below you can see our Evil Angel discount prices: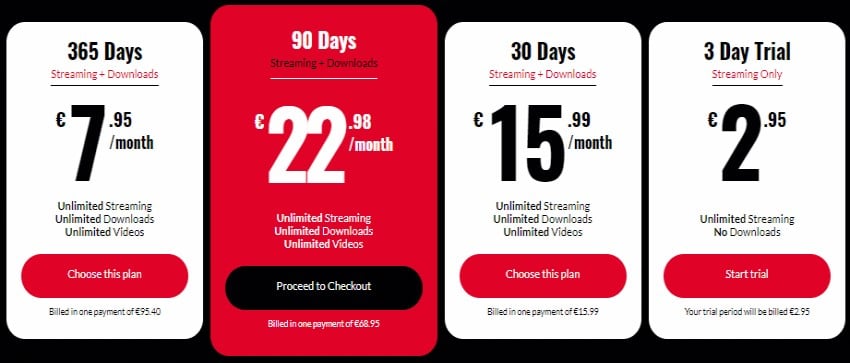 And here is a screenshot was taken showing the original pricing when not using our links:

Payment Option
They have not yet followed the trend by accepting Bitcoin, or PayPal. So the options you have here are to pay by your credit card or Giftcards (100+ brands). A good thing to know is that the Evil Angel name will not show up on your credit card bill. A name that has nothing to do with the type of content will show up.
For safety reasons you will not be able to change your credit card, so make sure to signup with the credit card that you want to use for this payment.
Canceling Your Membership
A good thing to always check before buying a membership at any website is to read about how to cancel the membership. The Evil Angel membership can easily be canceled by contacting their 24/7 support team, using their live chat or email support.
Evil Angel Membership Summary
For fans looking for a subscription porn site with some of the best hardcore action and a collection of videos larger than you will ever have time to watch. With 19,000+ videos and thousands of Evil Angel pornstars, series, and DVDs this is one of the best porn membership sites to join.
With our special discount, you get the membership for a bargain and this is one of those sites you should consider signing up for a yearly membership. The annual membership gives you the lowest monthly cost and you will need a year to just go through the video library.
Learn more about the content you get access to in our Evil Angel site review or head over to the site now by using the link below.
Please leave a comment below and share your own thoughts about the site and Evil Angel membership.