Cospuri Review was updated on March 6, 2022, by Dark Angel Reviews.
Introduction
Up for review is the hot new top-rated Japanese premium porn site, Cospuri. This isn't the first Japanese cosplay site we've come across here at Dark Angel Reviews, but it's the first to feature such high quality movies. It's also 100% uncensored with some of the highest production values I've seen in recent months.
There's only one downside to this site – the collection is still very small. But that's changing quickly as they're adding 3-4 new scenes per week. Keep that in mind when reading our statistics below which will probably be outdated by the time you read this Cospuri review.
Impression
I've been watching Japanese porn for over a decade, and it's not every day I'm easily impressed by porn. However, Cospuri seems to have all the elements of a top Japanese paysite! They've spent a lot of time creating amazing scenarios with the hottest models in the most elaborate costume play outfits.
The site promises only the hottest JAV teen models in 4K videos and high-resolution photos. They've even included some nasty bukakke scenes with a couple schoolgirls in uniform getting their faces drenched.
Cospuri Content
If you like uncensored cosplay porn videos, then you'll appreciate this collection of uncensored Jporn. As I write this review, there are 178 total scenes in 4K and HD with 9 videos added in the last month.
Some scenes are around 30 minutes whereas others seem too short at around 7 minutes. All membership include a streaming option, but only premium membership allow you to download. Also, if you want to save the 4K quality scenes, you'll need to pay even more.
You'll find hot JAV pornstars such as Ria Kurumi, Haruka Suzuno, Saki Kawanami and Nanako Nanahara. Interestingly, they've also included one American who plays the role of cute schoolgirl. Each Av star on the site is presented with its own profile where you can learn more about the model.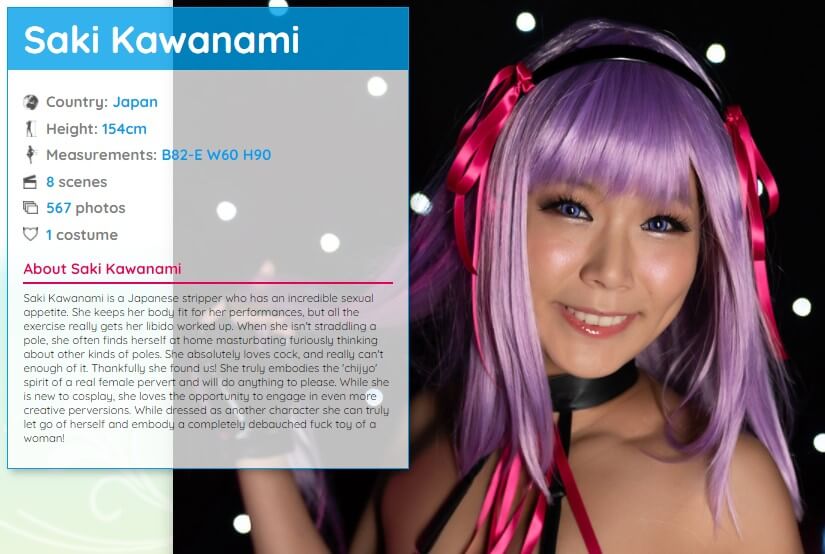 This Is What You Get
Uncensored Cosplay porn
All exclusive content
4K UHD & HD
High-resolution images
No DRM protection
178+ scenes
2846+ minutes of Cosplay porn
13,260 images
Site Features
All the scenes include clickable tags, more than you'll actually need since it's easier just to browse the latest videos page. There's also some twitter feeds and a FAQ page in case you run into any issues when streaming or downloading.
As you'd expect with a premium Jporn site, you can view on any device including smartphones and tablets. Note there might also be a download limit depending on the membership plan you select.
Membership Prices
Here are the current membership prices for Cospuri.
1 Month Billing:
$19.95 – Streaming Only up to 1080P
$29.95 – Streaming & Downloading up to 1080P
$39.95 – Streaming & Downloading up to 4K
3 Months Billing (SAVE 10%):
$17.95/month – Streaming Only up to 1080P
$26.95/month – Streaming & Downloading up to 1080P
$35.95/month – Streaming & Downloading up to 4K
6 Months Billing (SAVE 20%):
$15.95/month – Streaming Only up to 1080P
$23.95/month – Streaming & Downloading up to 1080P
$31.95/month – Streaming & Downloading up to 4K
Membership and subscriptions are paid by credit card.
You can easily cancel your membership through their support page at any time and keep your access to the site for the full billing period.
Conclusion
Despite the amazing quality cosplay videos and ultra-hot babes, it's hard for me to recommend a site with such thin content. As such, you might want to wait on this one until they've added more exclusive cosplay scenes.
Visit Site
Recommended Reviews For You