The Best Japanese Porn Site article was updated on November 28, 2020, by Dark Angel.
This blog post is all about the best Japanese porn sites. Are you looking for the best uncensored JAV porn but not sure which site to choose? Then read on to get the inside scoop before you join.
Free Tube Sites vs Paid Membership Sites
There are different ways to watch Japanese porn online with free and paid options. For most viewers, watching free Japanese porn on tube sites is satisfactory. But for others, paying for a membership at a premium JAV site is more advantageous. For example, as a member of one of the popular Japanese paysites, you'll get access to literally thousands of full-length videos in Full-HD 1080P or even 4K quality.
But with tube sites, the video quality is often much poorer. Another advantage of paying for your porn is getting immediate access to the latest uncensored DVD releases from Japan. So, although paying for a site requires money upfront, the overall quality and experience are much better on a paid site than on a free site.
In this review, I'll be talking about both the best Japanese tube sites and paysites.
What's The Best Free Japanese Tube Site?
If you're only looking for free Japanese porn without wanting to pay for anything, I recommend you check out JAVFinder.sh. This site is free, and you won't need to join to unlock any of the site's features. The Japanese porn movies on this site include both censored and uncensored versions. But what's unique about this site is that the videos are in their original full-length versions. This is rare for a free tube site to give viewers the full-length version without joining the site.
While researching other free Asian tube sites, I also found VJAV.com, HPJAV.tv, and JAVWhores.com. The overall quality of video varies greatly, as does the length of videos on these tube sites. But the main downfall is the excessive advertisements. I don't mind advertisements appearing to the side of the videos, but it seems almost every time you click on a new video to watch, some pop-up is activated with ads for some other porn site. This can become annoying very quickly and negatively affects the user experience. Also, most tube sites don't allow you to download their content, so your only option is to watch the videos online.
Should You Pay For Japanese Porn?
So that brings us to the question, Should you pay for Japanese porn? If you don't mind pop-up ads and slow-streaming videos, you can get your Japanese porn fix by watching videos from any of the sites mentioned above.
However, if you're a collector of J-porn and the quality of video and user experience matter to you, and if you want to be able to save the videos for later viewing, then you should consider joining one of our Top 10 Japanese Pay Sites.
Based on our rating criteria, these paysites have ranked the highest in over 80 JAV site reviews. The review scores are based on quality, quantity, user experience, exclusivity, and update frequency. If you can't find your favorite site there, I recommend you check out this list of Top 40 Japanese Porn Sites.
What's the Best JAV Membership Site?
In my opinion, the best overall Japanese porn membership site is JAV HD (review). I rank this site as number one because of the sheer volume of uncensored J-porn.
The JAV HD members area is a portal to 17 individual sites. Each site offers its own exclusive and uncensored niche content. For example, if you have a fetish for Japanese schoolgirls, there's the uncensored Schoolgirls HD with gorgeous 18- and 19-year-old sweethearts in hardcore sex scenarios. Or maybe you prefer Japanese women to be older in their 30s or 40s? In that case, you can head to Hey MILF to view mature Japanese ladies. Other niche sites include AV Anal, Amateur AV, and Shiofuky (squirting).
You end up with 4227 uncensored movies with nearly 920 JAV pornstars. The only problem with this site is that it's expensive, with a standard monthly pass setting you back $49.99.
A Low-Cost Japan Porn Site?
J Porn Access (review)is similar in design and user experience to JAV HD. It's also a mega-site with over 2700 full-length DVDs of the latest releases from Japan. The main difference between these sites is the considerably lower monthly rate of $29.95/month or only $7.50/month for a yearly membership. So if you're on a budget and don't want to pay the expensive JAV HD price tag, then I recommend you join JPornAccess.com instead, which gives you an approximately equal amount of content as JAV HD but for about half the price.
Top Premium Japanese Bukkake Site?
Bukkake is a unique porn category that Japan has become notorious for. It's an extreme type of facial gang bang porn where dozens of guys take turns cumming on a Japanese girl's face. By the time the scene is done, the girl's face and hair will be dripping with cum.
Many popular mainstream networks such as JAV HD and J Porn Access include a 'bukkake' category, but entire sites are devoted to Japanese bukkake porn. These include Bukkake Now (included in the All Japanese Pass network), Morning Star Club, and Bukkake TV.
Unfortunately, these sites are censored since the bukkake niche is rather hard to find in its uncensored glory. However, there is one uncensored site known as Sperm Mania (review) which is not precisely a bukkake site but rather a cum play site in which beautiful Japanese girls use their fingers and tongues to play with guys cum. Sperm Mania is one of our highest-rated sites, and although it's relatively small in quantity, it packs a great deal of value in terms of its unique POV handjob scenes.
Where To Watch Live Japanese Webcams?
Live porn, also known as webcam porn, is quickly becoming one of the most sought-after porn categories. Watching porn can get boring over time, so live webcam sites offer an intimate experience where you can become your own porn director.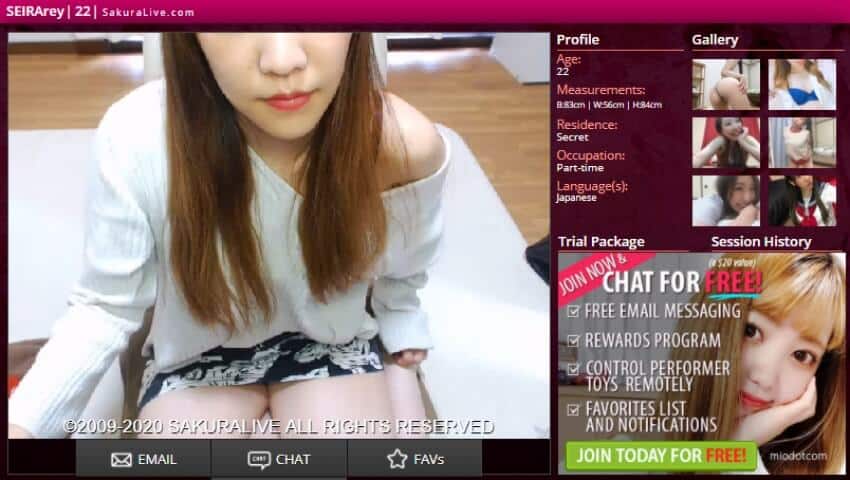 The most popular live cam chat site in Japan is Sakura Live (review). The site boasts an impressive selection of 1000s of live Japanese models to chat with from the comfort of your home. It's not cheap, and you're likely to spend a minimum of $2-$3 per minute for a private chat session. However, if you have the money and want to meet hot and willing babes, Sakura Live is your best option for live Japanese porn.
Some of the camgirls from Japan are more willing than others, so I recommend you check their profiles or enter their free previews to get a glimpse of what goes on during their live shows.
Tips For Joining a Porn Paysite
When joining a site, you should also look at the fine print of their membership pricing. For example, sites often offer a $1 trial membership but will automatically renew at a higher monthly rate than if you were to join for a 30-day pass without the trial.
Also, you'll get a discounted rate when joining for three months or longer. For example, JAV HD is our highest-rated Japanese paysite to date. If you were to sign up for a 1-month pass at JAVHD.com, it would cost you $49.99. But if you were to join the 3-day trial membership for $1, your membership would renew at a higher rate of $59.99/month. And signing up for a year would only cost $19.99/month.
JAV Porn Resources
If you're still looking for the best Japanese sites, then I recommend you visit the following pages at DarkAngelReviews.com: