Scifi Dreamgirls review was updated on February 21, 2022, by Dark Angel Reviews.
Introduction
I recently watched a youtube video from Japan showing the latest technology in robotics.  The female robot on this video looked genuine, authentic, and incredibly sexy.
This brings me to today's bizarre porn review of SciFi Dream Girls.  This is a futuristic look at what could soon be the latest technology in robot sex.  Of course, these are not real women, but it's the idea that counts.
It claims to be the ONLY fembot video membership site on the net.  And not only is it extremely well-produced, but the sex scenes are intense and literally out of this world.
Impression
Sci-Fi Dreamgirls is filled with compelling futuristic dildo insertions and fembots fucking each other with shiny strap-ons.
The site has just been launched, so it's in its very early stage in terms of content quantity.  But it definitely caught my attention, and that's more than I can say about 95% of the sites out there.  It's obvious from the site design and free previews that the production value is way up there with the best of them.
As of now, the site is basic with only several pages.  One page worth visiting is the "PREVIEW" page which has movie samples from the latest updates.  At the time of this review, there are only 3 movie samples, but at least they let you view the high-quality and out-of-this-world content.
The Robotic Porn Sex Scenes
There's actually an acronym to describe the porn niche involving robotics.  It's known as ASFR or Alternative Sex Fetish Robots.
The Scifi Dreamgirls scenes have a near Hollywood production to them (check out the movie samples HERE).  Yes, the acting is pretty bad, and the special effects aren't exactly Hollywood standard, but pretty damn good for a porn flick.  But hey, who gives a fuck about that when you have robotic chicks giving each other mechanical orgasms!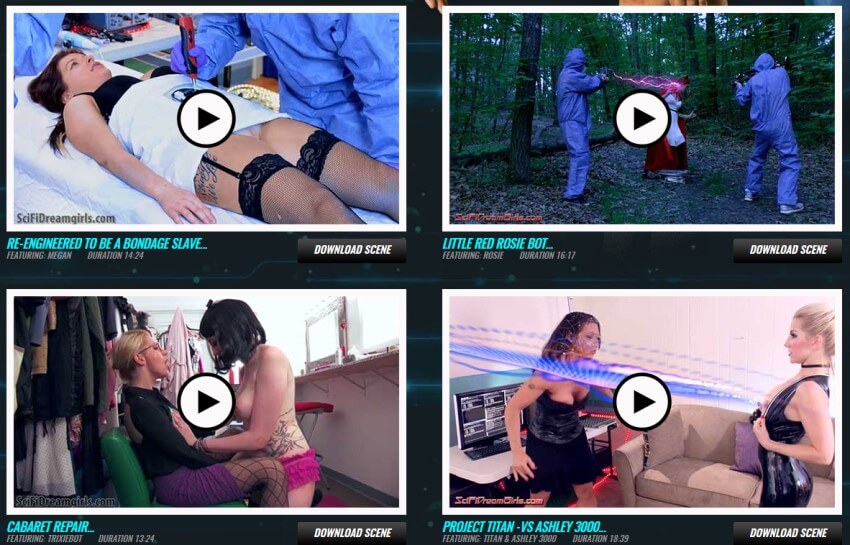 Currently, there are 22+ exclusive scenes and a couple of sets of photos.  Yeah, it's small, but at least you're getting something fantastically different.  It's also worth mentioning that none of the scenes can be downloaded.  My guess is they're aware that they've created something completely unique, and they don't want their content pirated and uploaded to the tube sites.
As far as updates, it's still too early to predict how often they plan to add new content since the site launched only a few months ago.  But based on the creativity of their content so far, I sure hope they continue to grow this sensationally bizarre niche site.
Price
2 days trial – $9.95
1 month – $29.95
3 months $74.95
12 months – $174.95
Conclusion
Overall, my feelings are mixed towards this site.  The concept is brilliant, and the movies are thrilling without being over-the-top.  I literally enjoyed every minute of the site.  But with only 22+ Scifi Dreamgirls scenes, there's not enough of them to keep you for longer than a month.