Japanese Transgender Porn Sites article updated on March 13, 2022, by Dark Angel Reviews.
Which Are The Best Premium Japanese Trans Porn Sites?
In the Japanese adult industry, transgender pornstars are known as "Newhalf" which refers to a new kind of human that is half male and half female. In the west, we are more used to words like shemale, TS, tranny, trans, and nowadays it seems that the correct word to use is transgender.
There are not so many sites out there that focus on the Japanese transgender niche but I have picked out the three best sites that I recommend if you are looking for premium membership sites with a large selection of videos and transgender pornstars from Japan.
Below you can read a short mini-review of each site which makes it easy for you to compare the sites. To learn more about each site you can click to read the full reviews or head over straight to the sites and explore them more on your own.
Transsex Japan
Gives up a modern design with top-notch videos and high-production value. Here you find some of the most popular Japanese transgender pornstars like the super hot and sexy Miran, Nakazawa Chulin, and Kauro starring in their latest male domination video where the guy licks her feet sucks her cock, and get a footjob.
Popular transgender found on Transex Japan: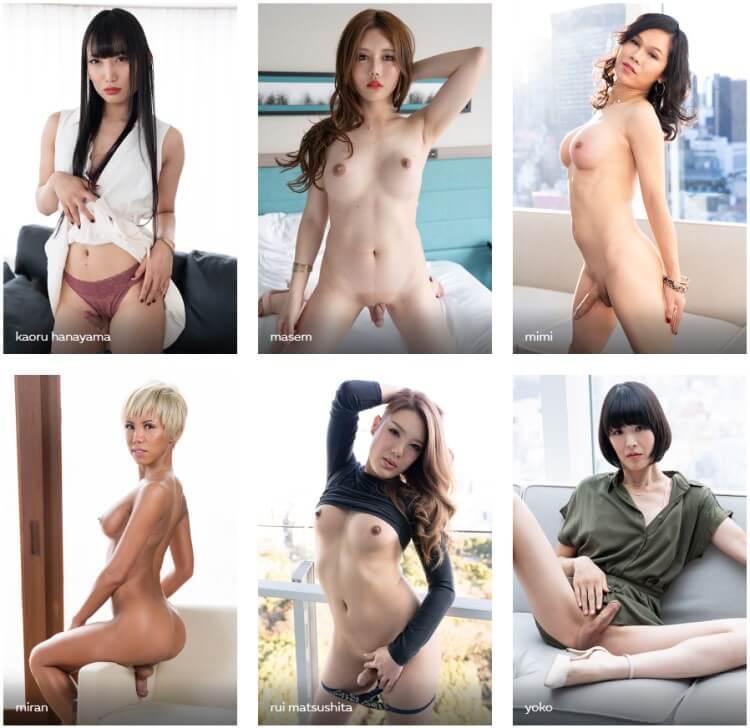 From the home page of Transex Japan, you can click on the sample link that you find on their top menu. This's the best place to start and you get to see the quality of the videos and the high-production value.  There are about 5 sample videos that you can watch and each video is a couple of minutes long.
The screenshot below is taken from a free video preview:

If you want to join Transex Japan you can choose from the following option:
1 – month membership for $24.95
2 – months membership for $38.95
3 – months membership for $56.95
Learn more about the site in our full Transex Japan Review or you can visit the site now and start watching the free video previews.
TGirl Japan & TGirls Japan Hardcore
These two Grooby Production sites (TS Reviews complete Grobby site list) look quite similar to each other, and could actually be just one site. For some reason, they have split it into two sites, where one is concentrating on solo masturbation videos and the other one with only hardcore content. But even at the TGirls Japan which is the solo masturbation site you still can find some hardcore videos.
TGirl Japan Pornstars: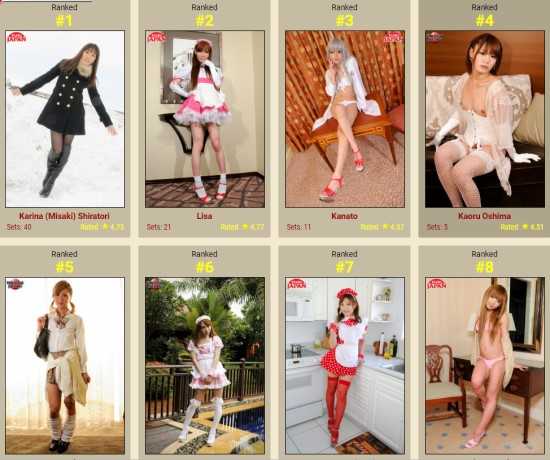 Which site to choose between the solo site or the hardcore site depends on what kind of content you prefer. TGirls Hardcore is the smaller site in terms of content, but both sites really deliver unique content from Japan. Grooby is always looking for new talent and scouting the Japanese transgender scene for new models. There are no free previews of the videos, but you can scroll through the content and see screenshots from the videos before becoming a member.
Screenshot from TGirls Japan Hardcore:


These are your membership options:
30 days for $37.99 ($1.23/day)
90 days for $79.99 ($0.83/day)
180 days for $150.00 ($0.72/day)
365 days for $250.00 ($0.65/day)
Learn more about the sites in our full reviews of  Tgirl Japan and Tgirl Japan Hardcore, or visit the site now with the link below.
Visit 'TGirl Japan Hardcore' Now
Franks TGirl World
This is really one of my favorite transgender xxx sites. I wouldn't mind being in Franks's shoes, he has one of the best jobs in the world. At Franks TGirl World you get to follow him as he travels around the world looking for new talent stars on Franks TGirls World.
Models from the site:

And of course, on his trips around the world, he had made some stops in Japan and scouted the scene for new talent and he has managed to find quite a few. Franks likes to be behind the camera as he films his own sex videos with the new amateurs he finds on the trips.
Japanese Newhalf in one of Franks videos:

Membership options:
1 – month – $37.99
3 – months – $79.99
6 – months – $150.00
12 – months – $250.00
Learn more about this unique site in our full Franks TGirls World Review our head over to the site now.
Visit 'Franks TGirl World' Now
So Which Japanese Transgender Porn Site Should You Choose?
From these websites, it is not easy to choose which one to pick. They are all a little bit different and are focusing on different things.
Transsex Japan is the site with the highest video quality and best production value. The Japan TGirls sites have the most amount of content when it comes to Japanese newhalf videos and models.
And Franks TGirl World has really unique content from all around the world but fewer Japanese Newhald models. So it all depends on what you are looking for!
Recommended Reading For You